Spring Multicultural Festival "Maslenitsa 2019"
ArtLinks invites everyone to the Spring Multicultural Festival called Maslenitsa, held at Alton Baker park on May 4th, 2019 from 1PM to 10PM.
There will be performances by artists from many different countries, followed by live music and a DJ.
Art & craft workshops, life-size puppets and games. Fun for the whole family!
https://www.facebook.com/events/2301757730143399/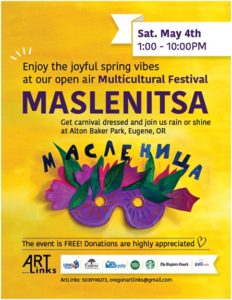 Schedule of workshops
1PM – Mask-making workshop  "Spring Spirit" – Enjoy the joyful art of mask making with the artist Ketty Guranda in this fun experience for children and grown-ups alike! We will have instructions and materials available for creating your own unique mask. Participate in our Carnival-parade at 3PM!
3.30 PM – Cartooning workshop – Learn how fun and easy it is to draw your favorite characters with cartoonist Kent Goodman! He will show how certain shapes are combined and used over and over in cartoons and anime, it's not that hard. Make your own cartoons as well! Your only limit is your imagination.
4.30 PM – Doll-making workshop with the artist Anna Laptova – create your own Ethnic Slavic Folk Traditional Doll "Bereguinia" or Doll "Motanka" that will protect your home from bad and evil spirits and will bring happiness and prosperity to your family.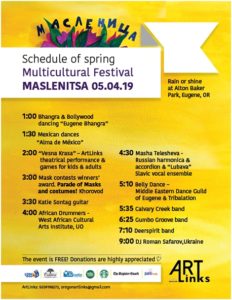 Inspired by Spring Spirit, we will have a drawing zone for kids and kids' drawing exhibition all day long starting at 1PM. Take a pencil or a crayon and create your own masterpiece!
Visit Kaleidoscope Clothing booth and create your own Tie Dye T-shirt – a true rainbow masterpiece! With a Unique Do It Yourself option, Kaleidoscope Clothing will provide all of the supplies and expertise to assist you with this MESS FREE project!
Be bright and happy this spring as it's impossible to be sad while wearing tie dye colors! Available from 1PM